I start my new job at the Barnes and Noble two blocks from my… - A Day in the Life
Dec. 2nd, 2005
11:32 am

I start my new job at the Barnes and Noble two blocks from my apartment tonight. I'm still down with the little-to-no work I'm doing at my other job, but I just got tired of not fondling books every day anymore, you know? It's sort of a big deal to me that I got hired, but the actual getting of the job was so anticlimactic that I didn't know how to write about it. The way the managers talked, I had some extreme competition for the position, but the gist of my interview was:

Jordan: So, I see here you're from Ohio.
Katie: That's right.
Jordan: I'm from Pennsylvania.
Katie: Oh, yeah?
Jordan: The east side, though.
Katie: Which is basically Ohio without all the Amish.
Jordan: You start Friday.

He called a woman named Chris up to the interviewing office and said, "I have an early Christmas present for you." You can imagine how objectified and delicious this made me feel. He continued, "She has an English degree," and I think it was the first time anyone's ever made me feel good about that.

I went in on Tuesday night to fill out some paperwork and get a tour of the store. I found out that the section I'll be working in includes fiction, creative nonfiction, graphic arts, and books written in other languages, so you can imagine how pumped I am to see how much stranger Emily's Book of Strange will be in Spanish. I also found out that all of the emo-looking, argyle-sweater-wearing, thick-glassesed boys work in the music section, so you can guess where I'll accidentally wander several times an hour.

Chris took me back to her office to give me my nametag at the end of tour, and when she opened the door, there was this lovely blonde man sitting in an armchair in the corner. He wore plaid wool pants with a thick cream sweater and greeted us as if he knew us. My first thought was, "That guy could be a TV star." And then I realised that he was a TV star. He was Carson Kressley from "Queer Eye for the Straight Guy", there to do a promo for his new children's book.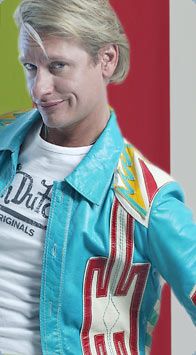 See what I mean about the sass?
I said, "My boyfriend totally looks like Jesus. I really need you to tell him to do something with his hair," and he said, "Done," in that very sassy way of his. So I'm pretty much in love with my new job already.
Comments: