Todd said I should've been like, "What's up, Michelle?" - A Day in the Life
Dec. 13th, 2005
11:44 am - Todd said I should've been like, "What's up, Michelle?"

When The Boyfriend moved to NYC for grad school and left me all alone in Ohio, we made an agreement: in his absence, I was allowed to sleep with Jay Clifford–lead vocalist for Jump, Little Children–if the occasion arose. It was pretty unlikely given Jay's residence in South Carolina and, you know, his wife, but I like to keep the dream alive. In return, I granted Todd permission to sleep with either of the Olsen twins. This was much more likely, given that Mary-Kate and Ashley are also in NYU's film program. Little did I know that I'd be the first one with a shot at getting them into bed.

See, I was working at Barnes & Noble on Sunday afternoon in the reference section. I can't really get into reference, because none of the books really excite me like they do in the fiction and art sections. When someone comes in and asks for a poetry recommendation, I can sell the hell out of some Louise Gluck. When someone asks for good photography, I can lead them straight to Ralph Eugene Meatyard. But when someone needs a good SAT prep book, I'm totally uninterested.

So I was walking past the knitting and crocheting books around 3 p.m. when I stopped in front of a girl blocking the main aisle. She was wearing a long black coat, a driving cap, and smoky black square sunglasses that consumed her entire face. I was thinking to myself how out of place she looked when she started to say, "Do you have any . . ." She wasn't looking at me but was staring off to her right, so I was like, "Is she talking to me?" I looked around to see if she had a friend nearby or something, but no one else was paying any attention to her.

I had one of my too-proud moments where I thought, "If she's not going to look at me when she speaks, then I'm going to ignore her." But just as I was about to cut down a side aisle, I recognised her: an Olsen twin. I loved that my first thought was, "Thank God I look cute today," as if she was going to be all, "Girl, you can work a Target skirt like no one I've ever seen. I'm making you my personal stylist so I can stop going out in public looking like this:"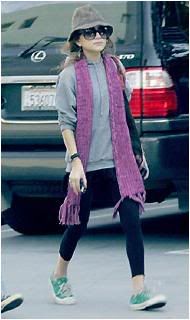 Instead, she asked, "Do you have any books on gardening?" I showed her to the right section and asked if she was looking for anything specific. She said she wanted something on indoor plants, and I told her that I was way too new to have any idea where to find that, but after scouring the section for 3.7 seconds, I found a couple of shelves labeled "Indoor". I told her I'd be around if she needed any more help and left her alone in the aisle, where she looked through all of the hardcover books and neatly put everything back where she found it. Not that I was spying on her or anything.
What struck me is that she didn't look like a whore at all. She wasn't wearing too much eye make-up or too little clothing. She wasn't making fake pouty faces, and there wasn't an entourage following her around. And most shockingly, she looked like a totally normal weight. Of course, I can't be sure, because we didn't get naked together or anything.
I definitely asked if we could, though.
Comments: